Confluent Control Center
The simplest way to operate and build applications with Apache Kafka
Confluent Control Center is a web-based graphical user interface that helps you operate and build event streaming applications with Apache Kafka. Expertly-designed dashboards and operating consoles help you meet SLAs and administer key components of your event streaming platform as you scale across the enterprise.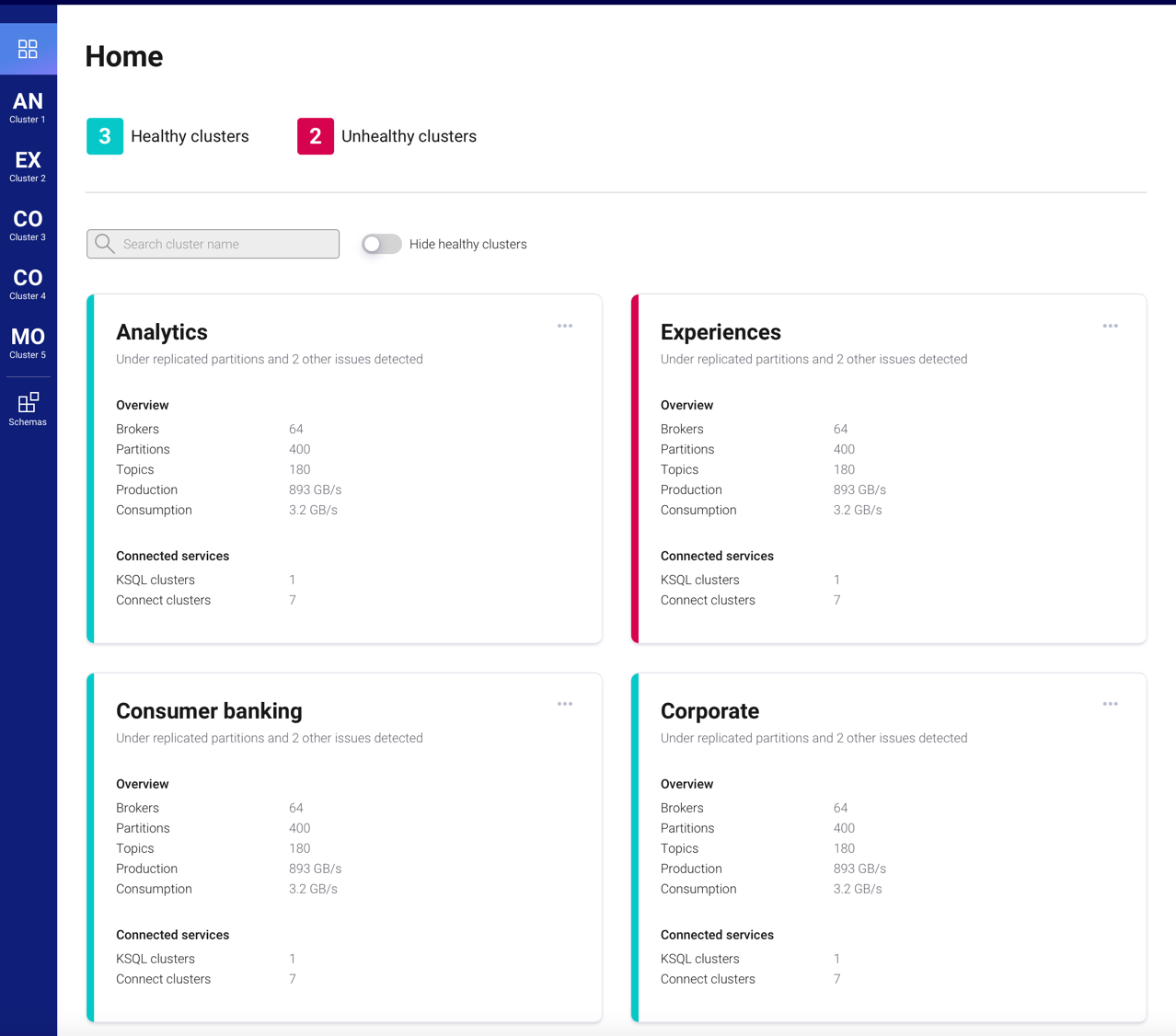 Build pipelines and process streams
Control Center provides centralized management for all your Connectors built on Kafka Connect and offers a graphical user interface for Confluent KSQL.
Kafka Connect and Connectors integration
Manage all your running connectors built on Kafka Connect.
Create new source and sink connectors
Edit existing source and sink connectors
Support multiple Kafka Connect clusters at a time
Confluent KSQL integration
Develop event streaming applications by using the KSQL user interface provided by Control Center.
Create Kafka topics
Develop persistent queries
Support multiple KSQL clusters at a time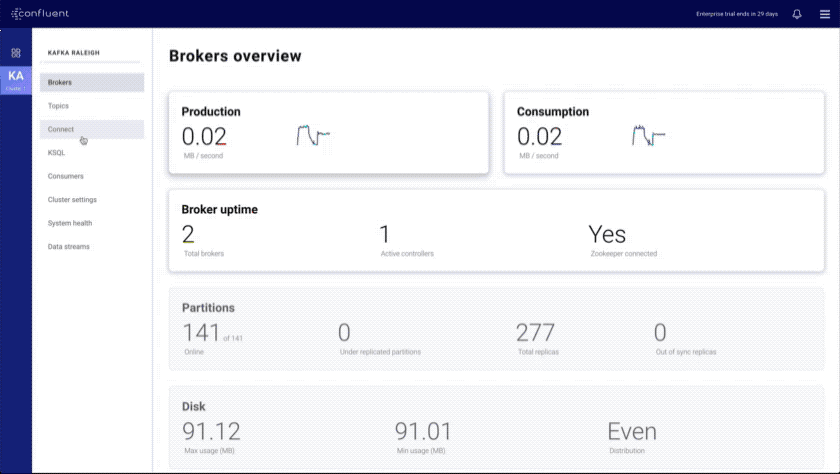 View and manage event streams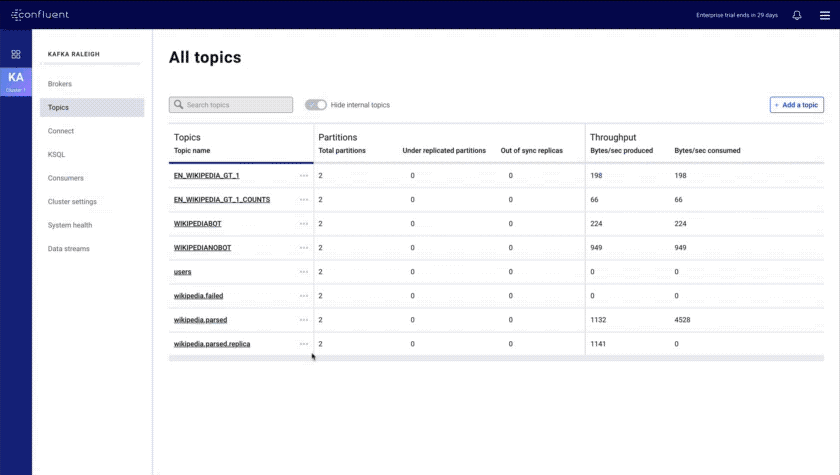 Control Center helps you observe and control all your Kafka topics and data in a centralized way.
Topic management and inspection
Start with a view of your topics and drill all the way down into the actual data following through them.
Create and edit topics
View topic details (partitions, replication factor)
Browse message data
Schema management
Control Center integrates with Confluent Schema Registry to allow you to see schemas for topics, create and edit schemas, and even validate your schemas against the compatibility policy.
View Kafka clusters at a glance
Control Center offers a global view of the most critical parameters around health, availability, and performance of your Apache Kafka clusters, so you can understand your event streaming platform as a whole.
Kafka cluster health
Get an enterprise-ready summary of system health indicators, drill down on a per broker basis and receive alerts when anomalous events are detected.
Health status for every cluster
Number of brokers, partitions and topics
Throughput (produced and consumed)
Under-replicated partitions
Broker configuration
Simplify at-scale operations using a centralized dashboard to view broker configurations and modify them dynamically without resorting to rolling restarts.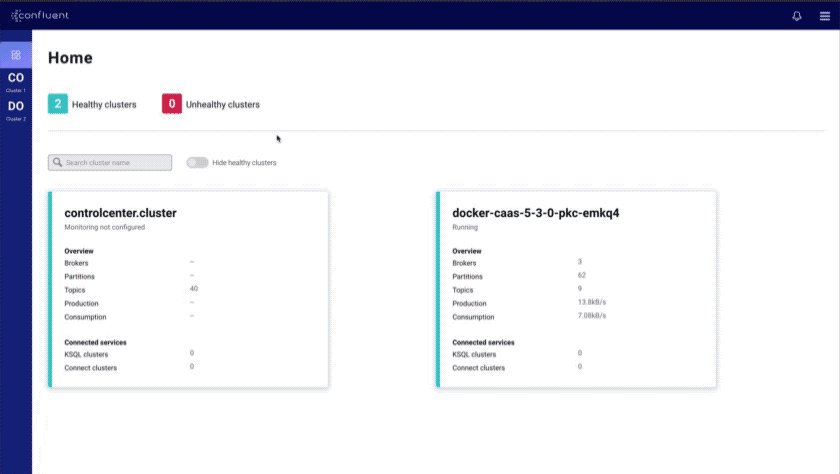 Meet event streaming SLAs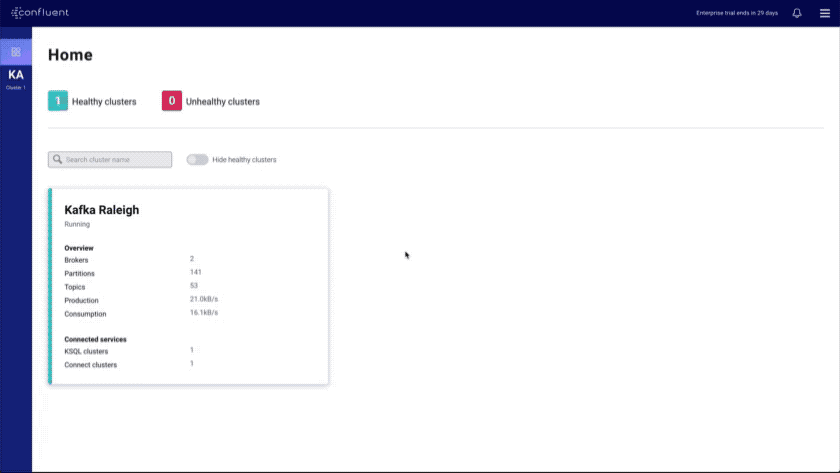 Control Center provides a solution designed to track the key performance indicators for all your Apache Kafka event streams and event streaming applications.
Message delivery and latency
Use intuitive charts to track, receive alerts and troubleshoot message production and consumption over time.
Message delivery (expected vs. actual)
Average latency
Average throughput
Consumer lag
View how consumers are performing based on offset, spot issues with slow consumers at a glance, and take proactive steps to keep performance high.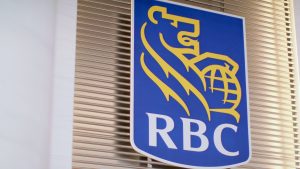 Case Study
Streaming Data Empowers RBC to be a Data-Driven Organization
Royal Bank of Canada built a real-time, scalable, and event-driven data architecture for their rapidly growing number of cloud, machine learning and AI initiatives. Learn why they selected Confluent Platform to be the foundation of that data architecture.
Watch Video