The Call for Papers for Current 2022: The Next Generation of Kafka Summit is in full swing, with speakers from around the data streaming world putting their best talks forward to be considered for inclusion in the conference. The agenda for the event will be chosen by the program committee—and so it is with great pleasure that I can announce the inaugural Current 2022 program committee.
Bringing together luminaries from across the industry from companies including Red Hat, Snowflake, Confluent, Netflix, and Honeycomb, the program committee's job is to create the very best lineup of talks. Whether data engineering with real-time data, software engineering with message brokers, or event-driven architectures—there are going to be many excellent talks at Current.
I'm delighted to welcome back the existing Kafka Summit ​​program committee, which includes, to name but a few: Gunnar Morling (Project Lead for Debezium), Lena Hall (Head of DevRel for AWS in North America), Kate Stanley and Mickael Maison (joint authors of a forthcoming book on ​​Kafka Connect), and Joy Gao (Software Engineer at Figma).
In addition to the existing members, I'm excited to add well-known industry and community names such as Chris Riccomini (creator of Apache Samza, author of "The Missing README"), Adi Polak (VP of DevEx at Treeverse, and author of "Machine Learning with Apache Spark"), Holden Karau (Open Source Engineer at Netflix, author of several books including "Learning Spark"), and Fabian Hueske (Apache Flink PMC, Senior Software Engineer at Snowflake).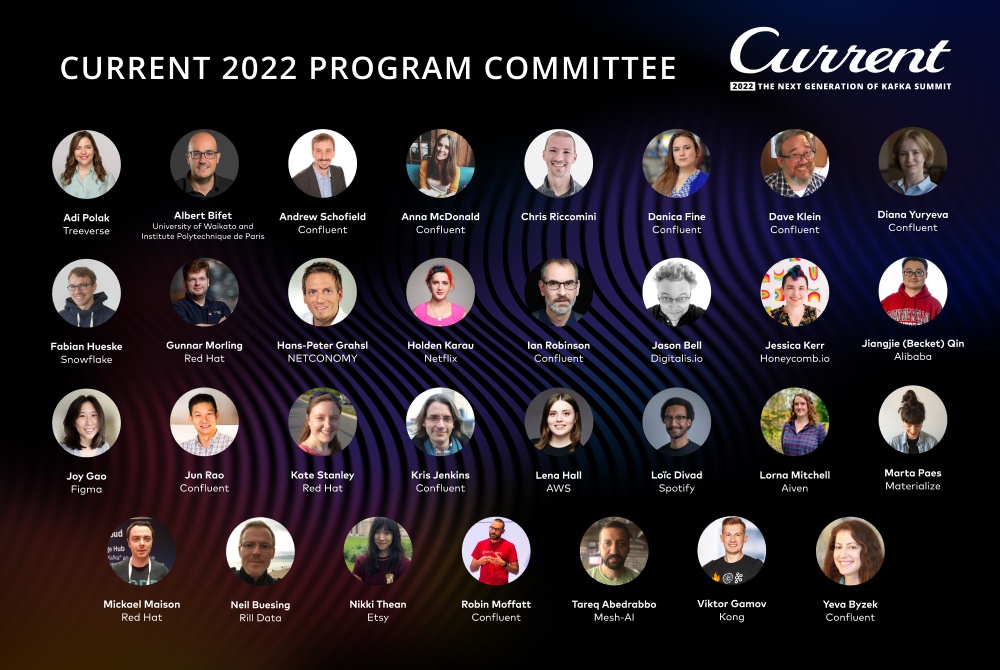 With the help of this illustrious committee, the program for Current 2022 promises to be a fascinating one. Whilst there will be a healthy number of talks about Apache Kafka®, the scope for Current is much broader and will include any and all other data streaming technologies. The tracks for Current include:
Developing Real-Time Applications
All things related to building applications with streaming technologies. Development practices, scaling, testing, CI/CD, microservices, etc.
Streaming Technologies
Technology talks about Kafka et al. Introductory talks through to deep dives. KRaft, Tiered Storage, consensus protocols, and more. What's happening under the covers, and upcoming features.
Architectures You've Always Wondered About
A show-and-tell of the software stacks and architectures being used to run data in motion at scale.
Case Studies
How has streaming been used in your business? Why did they adopt it? What lessons have you got to share that would help others on a similar journey?
Pipelines Done Right
Streaming ETL, modern data flow, batch pipelines, and beyond!
Real-Time Analytics
What uses does a real-time dashboard serve, and how are you building them? Do you even really need data in real-time for analytics?
And more…
If you would like to be presenting one of those talks, there is still time! The Call for Papers is open until June 26th. Read my recent blog post to find out more about why you might want to speak, how to go about submitting, and where to get help if you want it.