Today, we are delighted to announce Confluent's expanded partnership with VMware Tanzu. Together, we're offering our joint customers a complete, cloud-native experience for application developers and platform operators to set data in motion everywhere they choose to run VMware Tanzu.
Confluent for Kubernetes provides a cloud-native, complete experience for data in motion, but it relies on an underlying Kubernetes API and runtime to perform all of the complex orchestration under the hood so that our users don't have to. Kubernetes can be challenging to manage. To meet those challenges, VMware Tanzu offers a consistent enterprise-ready Kubernetes runtime that streamlines operations and allows enterprises to reliably deploy and run containerized workloads across private cloud, hybrid cloud, multi-cloud, and edge environments.
Confluent and VMware Tanzu have jointly validated Confluent for Kubernetes atop VMware Tanzu Kubernetes Grid. This ensures that the intelligent automation we have built into Confluent for Kubernetes runs effectively and reliably on VMware Tanzu Kubernetes Grid, regardless of where it is deployed. Furthermore, we have published Confluent for Kubernetes to the VMware Marketplace, making it easier to discover CFK releases which are compatible with our customer's VMware Tanzu Kubernetes Grid deployments.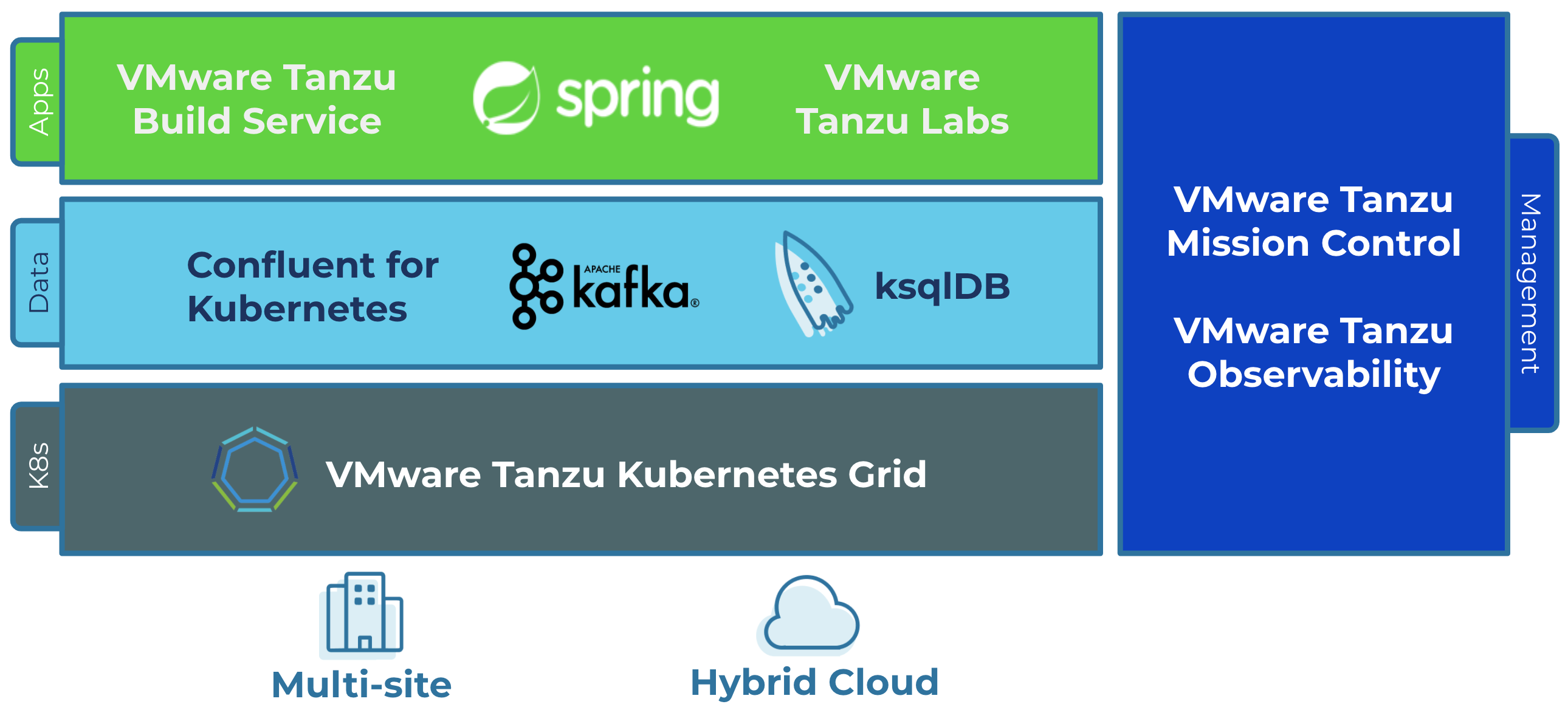 VMware Tanzu's Modern Infrastructure + Confluent's Data in Motion Platform Enable Streaming Event-Driven Applications
Validating Confluent for Kubernetes as Partner Ready for VMware Tanzu is just one part of what we offer together. For example, with Confluent for Kubernetes and VMware Tanzu Kubernetes Grid, platform operators can deploy Confluent to multiple Kubernetes clusters and leverage VMware Tanzu Mission Control to manage their Kubernetes clusters at scale and VMware Tanzu Observability to gain platform-level visibility across their Confluent for Kubernetes deployments.
With Spring, developers can easily build applications that harness data in motion, and run them alongside Confluent for Kubernetes on a common VMware Tanzu Kubernetes Grid runtime for maximum efficiency.
We look forward to continuing to work with VMware Tanzu to make it easier to procure, deploy, and manage Confluent for Kubernetes. As organizations around the world adapt to an increasingly real-time, event-driven world, Confluent—along with our broad ecosystem of partners—is ready to help them put their data in motion.
To learn more about our partnership, check out the Confluent + VMware partner page or visit the VMware Marketplace.