We are thrilled to be named Google Cloud Technology Partner of the Year – Smart Analytics for the third straight year. By building on Google's open cloud with Confluent's open platform based on Apache Kafka®, enterprises have bridged the gap between cloud and on-prem systems to set data in motion and power real-time analytics applications. "Real-time is becoming a must-have for data analytics platforms and Confluent offers best-in-class technology to set data in motion across environments," said Kevin Ichhpurani, corporate vice president, head of global ecosystem and business development, Google Cloud, "Confluent's cloud-native service complements Google Cloud's data services by connecting multi-cloud and on-prem data to our customer's data cloud."
For the three-peat we wanted to lay out three reasons why Confluent is the peanut butter to Google Cloud's jelly.
One: Power real-time analytics across distributed data with Confluent and Google Cloud
With Confluent and Google Cloud, enterprises can build a holistic data analytics platform that spans both on-prem and multi-cloud environments. With the help of Confluent you can move your data warehouses, data lakes, databases, or data marts to Google Cloud and change the economics of your data platform while turning business applications like customer 360, fraud detection, cybersecurity, and more in real time.
"Together, Confluent and Google Cloud help customers quickly unite data, no matter where it resides, for powerful, real-time analytics and a reliable bridge across on-premises environments and modern, cloud systems," said Vinod Devan, Global Head of Partner Ecosystem and Business Development, Confluent. "We're honored that our strong partnership is recognized for the third year in a row, and are dedicated to empowering more businesses to set their data in motion."
Confluent is fully integrated with Google Cloud so enterprises across the world can quickly build an integrated data analytics platform with unified security, billing, and management—all accessible via Google Cloud's Console and Marketplace. With our connector ecosystem of 120+ connectors including Google Cloud Storage, BigQuery, Pub/Sub, Dataproc, BigTable, Cloud Spanner, and more we can quickly help enterprises bridge their on-prem, multi-cloud data architectures to Google Cloud. For enterprises using Kubernetes as the foundation for their modern data platform, Confluent for Kubernetes is also now Anthos Ready. This enables enterprises to deploy Confluent's data in motion platform anywhere with centralized management via Anthos.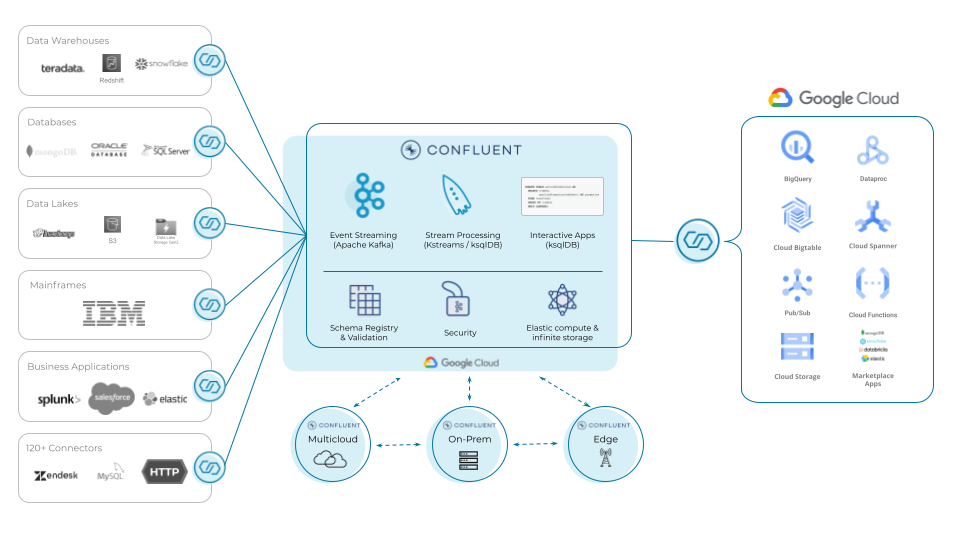 Two: Enterprises are betting their business on our businesses
Winning this award for the third year in a row is a testament to the value that our joint customers have experienced. Confluent's data-in-motion platform complements Google Cloud's data analytics portfolio so that you can modernize your data platform and transform your business with real-time data.
For example, Rodan + Fields turned to Confluent and Google Cloud to modernize their data stack and accelerate development of data applications. "Confluent and Google enabled us to address our large database footprint and retire our legacy data platform, which was in many ways our Achilles heel," said Jason Mattioda, head of enterprise platforms and data engineering, Rodan + Fields. "After moving to real-time streaming on a cloud-based modern architecture, we can now deliver new features and capabilities to our customers and know that they won't be slowed by an outdated architecture."
Having moved enterprises across the world to Google Cloud we understand it's not as simple as a lift and shift. There are stepping stones to success and Confluent's cloud-native service with Cluster Linking delivers significant value and cost savings to enterprises that are looking to use Apache Kafka as the centerpiece of their data in motion strategy. Compared to self-managed open source Kafka, Confluent Cloud users have been able to increase speed to market by up to 75% and reduce total cost of ownership by 60%. These resource savings can be applied to new initiatives to drive top-line growth.
Three: We are committed to our customers' success and data analytics partner ecosystem
Both Google Cloud and Confluent understand that we are just pieces of the puzzle, not the entire puzzle. As such, building a strong ecosystem with best-in-class technology partners like Databricks, Snowflake, MongoDB, Elastic, and more have provided our joint customers the freedom to choose what's right for their business on our flexible and open analytics platform. "In order to compete and thrive, today's businesses need to be agile, fast-moving, and have the ability to quickly act on data no matter where it resides," said Vinod Devan. "Through our strategic partnership with Google Cloud, we're providing the fundamental building blocks organizations need to gather real-time insights that power new customer experiences and get them to market faster."
Our commitment to our partner ecosystem is not only being noticed by Google Cloud, but also by our partners at Databricks and MongoDB. We were recently given Databricks' ISV partner momentum award and named MongoDB's technology partner of the year.
We are just getting started
This is just the beginning of our partnership with Google Cloud and we can't wait for what's to come next. Thank you to the joint teams and customers that have helped us get to where we are today. And finally, don't take our or Google's word for it, get started today with a free trial of Confluent on Google Cloud's Marketplace and see why we are a three-time winner for yourself.