Today we're announcing an exciting Strategic Collaboration Agreement (SCA) with Amazon Web Services (AWS). This new five-year agreement builds on our strong existing collaboration, with the goal of making it easier for our customers to connect, manage, and process data across cloud and hybrid environments. With this comprehensive agreement, together we're committing to increase product integrations and development even further. It also includes joint go-to-market initiatives to help businesses stream data in the cloud faster and more easily.
How AWS and Confluent work together
This is a significant collaboration for AWS, Confluent, and our customers. Both cloud and data in motion have emerged as two of the biggest tech enablers of the modern era. Used together, these technologies can help businesses eliminate and connect legacy siloes, save time and money, and forge ahead with new data-driven insights. With this collaboration, the leaders in cloud and data in motion are doubling down to make it easier for any organization to turn technology into a competitive advantage.
This collaboration is also a significant one for our industry and evidence of what we see happening more generally. With the significant rise of the cloud and cloud-native data systems, the relationships between vendors and cloud service providers become blurred, and customer requirements are the only thing that truly matters. While on one hand, we compete with a select number of AWS services, on the other hand, we help connect legacy and cloud-native services and data to more CSP infrastructure like Amazon Redshift, Amazon Simple Storage Service (Amazon S3), Amazon DynamoDB, and more.
Ultimately, we always ground ourselves in our customers' perspective. They want access to world-class data capabilities so they can deliver the amazing customer experiences and connected backend operations that are required to thrive in the digital world. When we look through this lens and make solving our customers' biggest problems our number one priority, everyone wins. We've always believed in these close collaborations so we can serve customers wherever they are. Together with AWS, we are providing customers the freedom of choice for data in motion technology on one of the largest cloud providers in the world.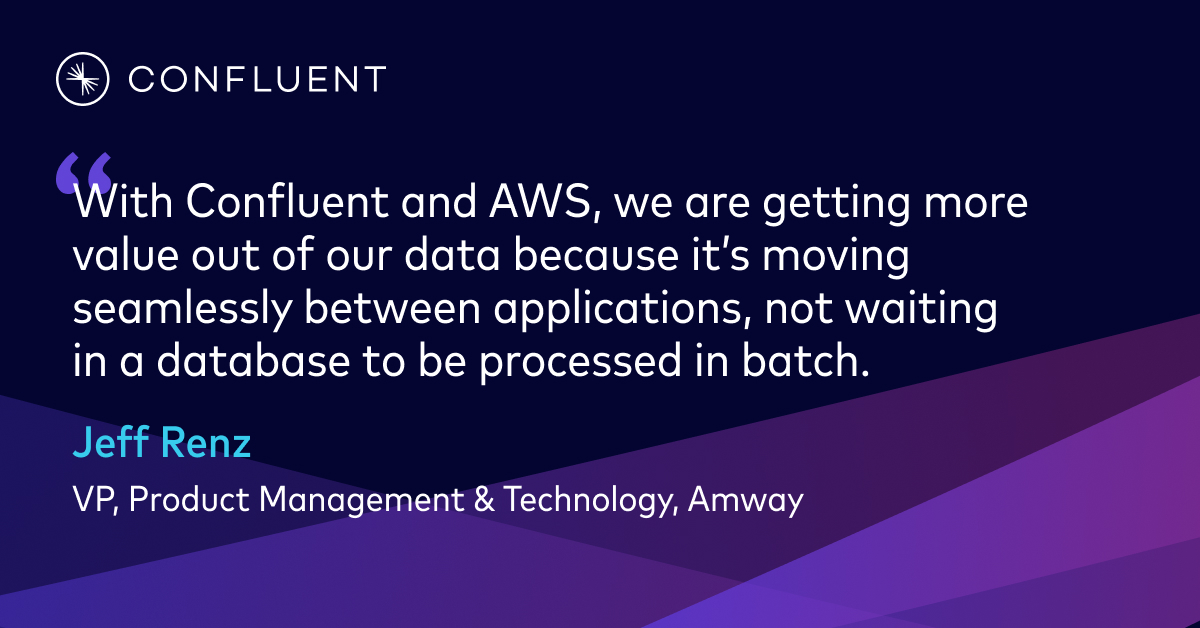 We look forward to closely collaborating with AWS as we work together to unlock the power of the cloud and cloud-native data systems to help our customers thrive in a digital world.
But you don't have to wait to benefit from our collaboration with AWS. With Confluent Cloud we make it easy to build, connect, and integrate real-time data to AWS. We offer fully managed connectors for AWS services like Amazon S3, Amazon Redshift, Amazon DynamoDB, AWS Lambda, 3rd party ISVs (like our recently launched Databricks connector), and more. All of it is fully integrated with AWS Marketplace and services so you can unify management, security, and billing to get started easily.
And at AWS re:Invent 2021, we delved into how you can connect Confluent and Amazon Redshift to power real-time analytics and how Confluent can connect data from anywhere, including the edge, to AWS. If you want a hands-on experience, try our Confluent on AWS workshop to explore getting started.
Sign up for a free trial of Confluent Cloud in AWS Marketplace and use the code CL60BLOG for an additional $60 of free usage.*