During the holiday season, it's a particularly relevant time to pause, reflect, and celebrate, both the days past and those ahead. Here at Confluent, it's a noticeably nostalgic moment, given the unique inflection point in our story. We've had a lot to celebrate this year!
As we step into 2020 celebrating a new year, Confluent will also celebrate a noteworthy milestone—welcoming our 1,000th employee. A lot has changed in a relatively short period of time. We have come a long way from where we were only five years ago: five employees calling a 900-square-foot dentist office home. As we enter 2020, Confluent now has a footprint that spans 17 countries, 34 states, and 20 offices around the world, including a new headquarters in Mountain View. Each of these offices is filled with some of the smartest, most driven, and humble humans on the planet.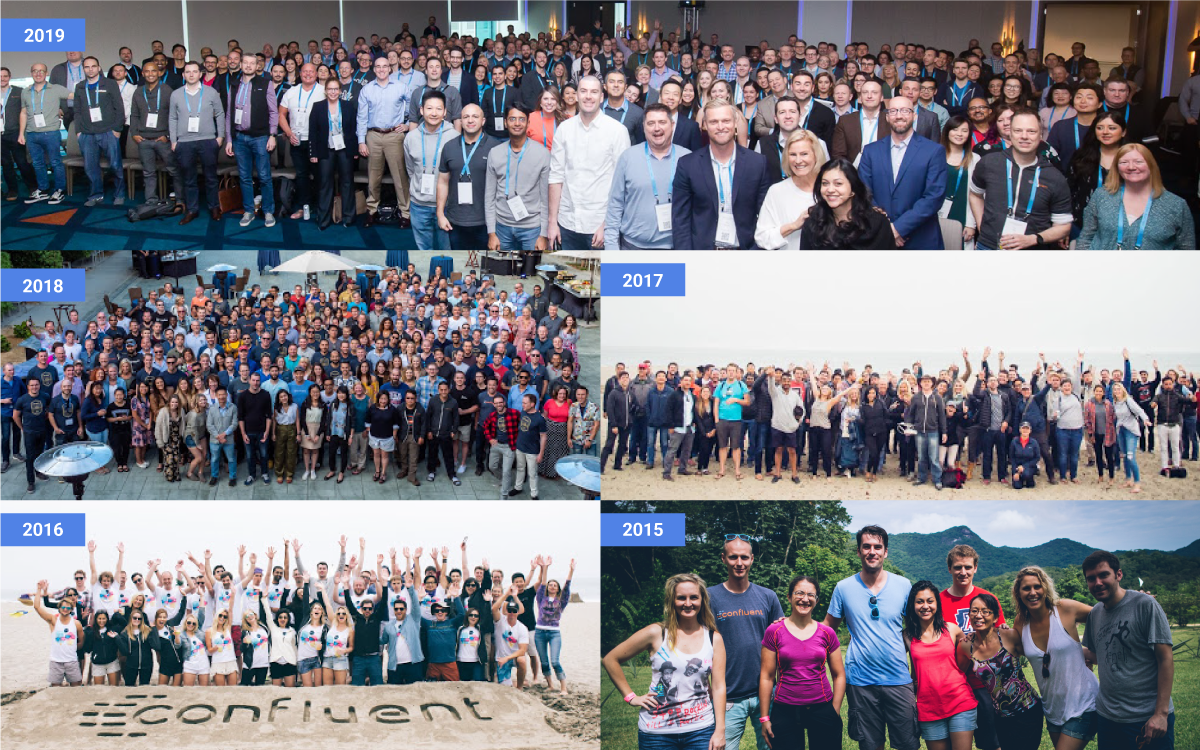 It's been an incredible ride thus far and we've only just begun. As one of the world's fastest-growing enterprise companies, Confluent faces unlimited potential as companies become software defined and adopt real-time event streaming to transform and accelerate their businesses. In celebration of this, we wanted to share a few highlights of our progress thus far: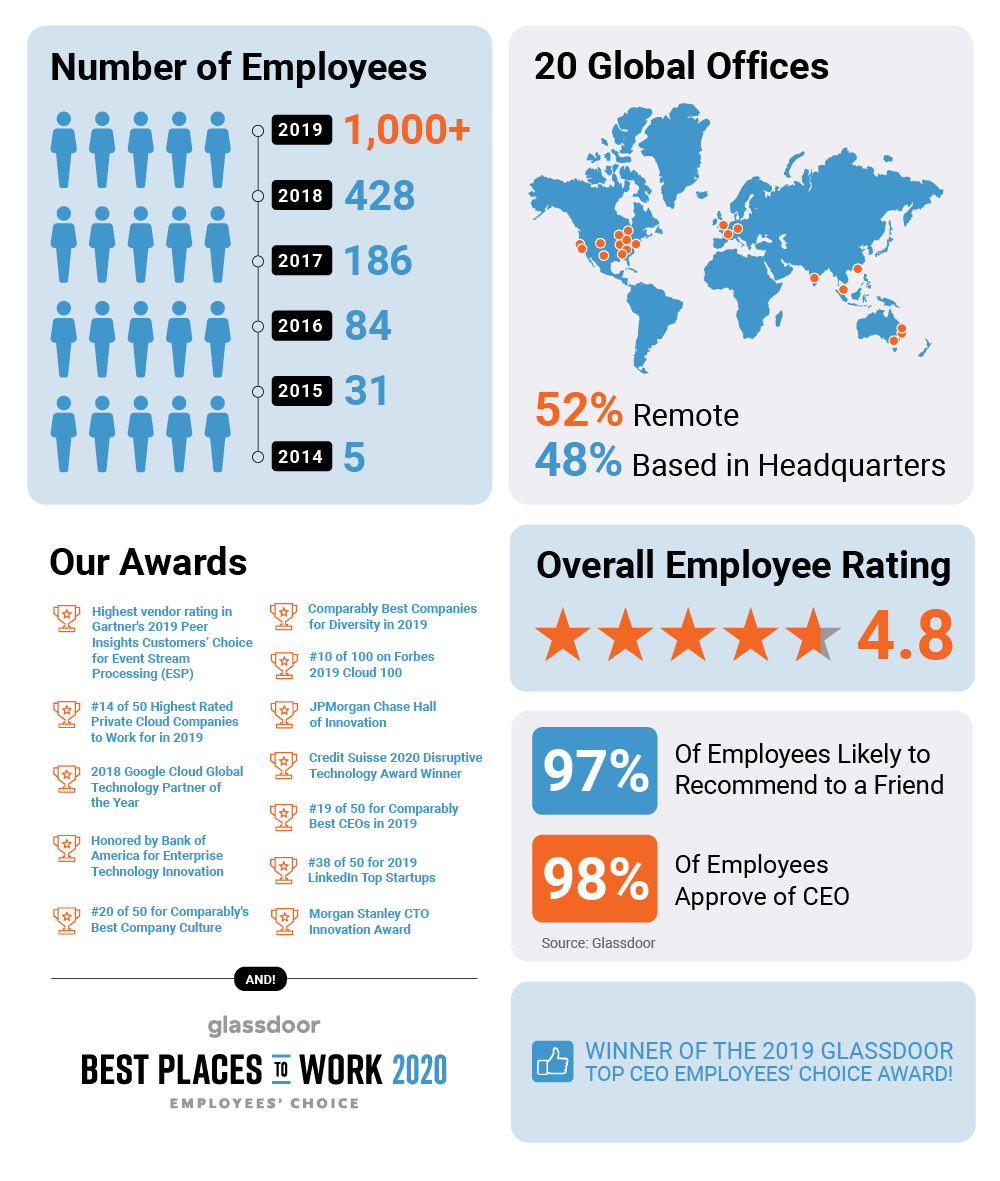 So, how did we get here?
It all started with a clear vision. Jay Kreps, Jun Rao, and Neha Narkhede were part of the original team that authored Apache Kafka® at LinkedIn. Once Kafka became open source, literally hundreds of companies started to use it. When the founders saw the adoption, they realized there was a billion-dollar business opportunity to build the infrastructure platform for event streaming and help companies adopt it. The trio was perfectly positioned to do this, and the next thing they knew, they were standing there in a tiny Mountain View office ready to take on a new adventure.
Confluent has been ambitious from the beginning, but I've still been surprised by how quickly we've grown. Hypergrowth means that we're constantly running. It's exhilarating, but it's also a huge challenge.
People, product, and place: Three pillars of our success
How have we scaled our business to address this extraordinary opportunity? For me, the answer is our people, our products, and our place within the community.
Smart, humble, and empathetic team
As I said, I firmly believe we have some of the smartest people on earth. Not just our expert engineers and technologists, but also those in finance, sales, people & talent, marketing, design, and so many others who make a crucial contribution every day. Without their expertise and engagement, we wouldn't be where we are today. However, it's not just about being smart but also sharing our values and fostering a positive culture.
To start with, we're all #oneteam. Although scaling at this pace is a challenge for any organization, at the end of the day, we'll make it a point to talk transparently, work together collaboratively, and jointly make decisions that are best for serving our customers, even if that means stepping beyond our roles to get it done. And, when we say #oneteam, we really mean it. Everyone in the company knows what our leadership knows—our strategy, our revenues, our forecasts…everything. Every company wants to foster a sense of everyone being in it together, but this kind of radical transparency goes a long way towards making that a reality.
We also expect one another to be humble and empathetic, listening to each other's points of view rather than just assuming what's right. That's difficult to do if you're smart, which is another reason why our team is special. And, it's one of the most notable reasons that people don't just come to Confluent, they stay (our employee retention rate sits at nearly 95%). Yes, Confluent offers industry-leading benefits, catered lunch, unlimited vacation, and even dog-friendly workspaces, but ultimately people are here because they are passionate about making a meaningful contribution and building together. That's what Confluent is all about.
Industry-leading products and transformative tech
Over the last five years, we've built Confluent Platform to make Kafka incredibly scalable, robust, and secure. We also launched Confluent Cloud, a fully managed Apache Kafka as a service. In this way, we are making event streaming truly enterprise-grade—whether you're in an on-premises, multi-cloud, or hybrid environment—and at the same time democratizing event streaming for everyone.
With 60% of the Fortune 100 relying on Apache Kafka and Confluent customers that include Bosch, Nuuly (Urban Outfitters), Recursion Pharmaceuticals, Lyft, Euronext, Ticketmaster, Walmart, and more, we are seeing increasing adoption in this space across all types of organizations and verticals.
What makes this so thrilling is that we're creating a completely new category, providing critical infrastructure that sits as the central nervous system of every digital business. With digital transformation on virtually every organization's agenda, the potential is staggering, which highlights the underlying reason driving our rapid pace of growth.
As we grow our business at hyperspeed, we continue to innovate, building on our solid foundation to add even more value and solve new customer problems. With customers managing more and more business-critical processes and applications, event streaming is becoming foundational for how the modern enterprise operates. This means we're not going to run out of stimulating technical challenges or new market opportunities.
Place within a growing open source community
That brings me to our place in the Apache Kafka community and event streaming world. We wouldn't be here today without the open-source community, which has played a critical role in enabling progress, providing feedback, filing JIRAs, and contributing advancements that help make the technological ecosystem even better. From participating in meetups to guesting on the Streaming Audio podcast or taking a #streamingselfie on Twitter, it's the vibrant community across the globe that makes our work exciting, fun, and possible.
When it comes to serving customers across use cases in every vertical, we're not doing it alone. We're fortunate enough to have the opportunity to partner alongside some of the brightest minds in the world and work together toward solving problems.
Looking forward, improving event streaming technology will be an even larger focus. And we are committed to doing this without losing the special sauce that makes Confluent such a differentiated company.
Looking forward to the opportunity ahead
As we get ready to welcome our 1,000th team member, the truth is that we haven't made it. The opportunity in front of us is monumental and, to reach it, we will need to continue scaling our business, our team, and our community.
We're putting Confluent at the heart of every digital business and extending our footprint to support new customers around the globe. As we continue to build a successful business around a ubiquitous platform technology, we will get an opportunity to further grow the company with an eye towards the future, by investing in use-case-driven solutions and products for the most critical business problems that are solved through event streaming. With this comes new career opportunities at Confluent and an opportunity to continue building a smart, humble, and empathetic team.
We've reached an exciting milestone this year but, in looking forward, we've only just begun.