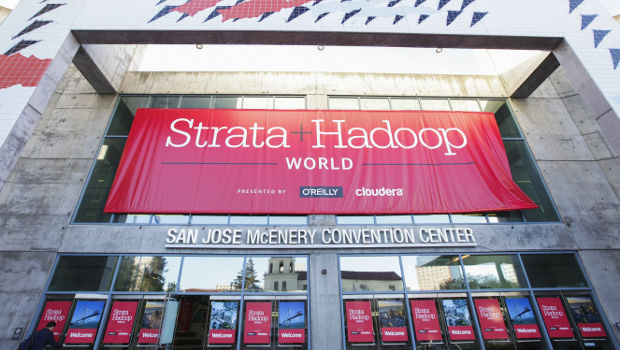 It's Strata+Hadoop World this week, and the who's who of the data management world will gather at the San Jose Convention Center to talk all things big data. I'm kind of familiar with this conference, having attended all but two of them around the globe in the past three and a half years. While my experience runs deep, this one will be different. Whereas before I was dead smack in the middle of the whole "data lake/data hub" story, this time I'll be on the outside looking in and frankly, the view is quite stunning.
Apache Hadoop™ and the entire ecosystem that emerged around it is super cool. It's been incredibly interesting to watch as stalwart technologies are called into question, how industry bellwethers have twisted and turned to keep up and how a vast community of data practitioners has emerged to capitalize on it all. If the agenda is any indication, at Strata this week we can expect to see a lot of talk about machine learning (ML) and artificial intelligence (AI) with vendors gyrating over how their product uniquely solves the problem.
Don't get me wrong: Hadoop, ML and AI are all great. But at Confluent, we're playing a completely different game. As my good friend and former colleague once wrote in a marketing piece, "something interesting is happening here" and Confluent is that something interesting. While everyone else is running around focused on the destination of data, and what you can do when it gets there, Confluent is the only company focused on the journey.
Sure Apache Kafka® is available as part of other products but ask yourself this: how are you streaming data to other core business systems other than just Hadoop? What about the fact that I don't just have one system but instead I have 10? Or 50? Or 100? And what about the fact that real-time means different things to different people and applications? Simple fact of the matter is this: despite conventional thinking, there's so much more to Kafka than just a fast pipe to Hadoop.
But don't take my word for it, come learn about it yourself. We have a great lineup of Kafka talks this week at Strata.
For anyone looking to learn more and hear what Kafka is all about, please visit the Confluent booth #1431 (enter for a drawing to win a Nintendo Switch. We're giving away several and these are sold out everywhere) and check out these sessions and activities:
Tuesday, March 14
Session: Building Real-time Data Pipelines with Apache Kafka
Speaker: Ian Wrigley, Dir, Education Services, Confluent
Time: 1:30pm–5:00pm
Meetup: Distributed stream processing with Apache Kafka
Speaker: Jay Kreps, CEO, Confluent
Time: 7:00 pm – 9:00 pm
---
Wednesday, March 15
Session: The rise of real time: Apache Kafka and the streaming revolution
Speaker: Jay Kreps, CEO, Confluent
Time: 11:00am–11:40am
Session: Mistakes were made, but not by us: Lessons from a year of supporting Apache Kafka
Speaker: Ryan Pridgeon & Dustin Cote, Customer Operations Engineers, Confluent
Time: 1:50pm–2:30pm
Session: Stream me up, Scotty: Transitioning to the cloud using a streaming data platform
Speaker: Gwen Shapira, System Architect, Confluent
Time: 2:40pm–3:20pm
Book signing: I Heart Logs: Event Data, Stream Processing, and Data Integration
Author: Jay Kreps, CEO, Confluent
Time: 3:20 pm–4:20 pm (afternoon break)
---