Here at Confluent we are excited to be participating once again in Google Cloud Next, taking place from Oct 11-13, 2022. We hope to see you there to hear more about what's new at Confluent and how we can help your business.
The Confluent-Google partnership this year has continued to power new data streaming use cases for our joint customers. As a three time Google Cloud Technology Partner of the Year award winner we are excited to help you set your data in motion. With NEXT being run as a primarily virtual event this year, we will be bringing to you three lightning talks and a technical breakout session that highlights the power of Confluent and Google Cloud together. Below is a sneak peek of what you can expect to see from Confluent at Google Cloud Next.
Tyler Pollak introduces and demonstrates how to secure workloads in Confluent Cloud through Google Cloud's Private Service Connect service.
For many companies, a multi-layer data security policy starts with minimizing network attack vectors exposed to the public internet. Security breaches, DDoS attacks, spam, and other concerns can be prevented by blocking internet access to key infrastructure. GCP Private Service Connect support on Confluent Cloud enables one-way service consumption without the challenges of negotiating IP address blocks and service updates that come with other private networking solutions.
The following diagram summarizes the Private Service Connect architecture that includes your VPC (or project) and the Confluent Cloud VPC (or account).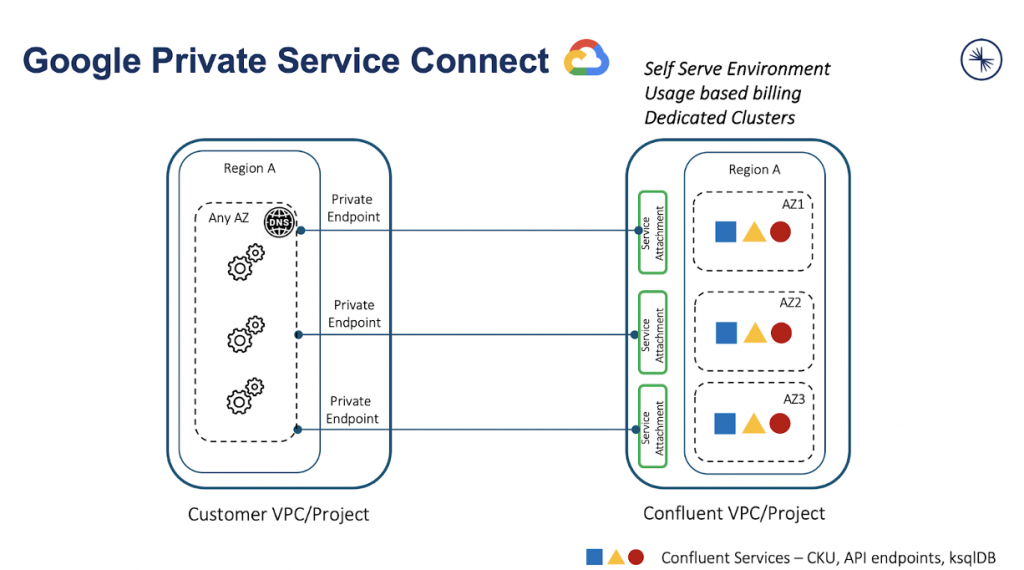 Confluent helps companies accelerate their modernization initiatives with our fully managed data streaming platform that lowers costs, synchronizes data during their on-prem to cloud migration, and shutters physical data center operations faster by moving to real-time streaming with Confluent and connecting data from any environment across cloud and on-prem to Google AlloyDB.
AlloyDB combines the best of Google with full PostgreSQL compatibility. It provides industry-leading performance and availability, so it can handle any commercial-grade workload you throw at it. AlloyDB is 4x faster than standard PostgreSQL for transactional workloads.
And full PostgreSQL-compatibility means regaining the freedom to run your applications when and where you want and benefiting from the entire PostgreSQL ecosystem. AlloyDB delivers up to 100x faster analytical queries than standard PostgreSQL. This means for end-users: super fast, real-time analytical queries directly against your operational database.
Organizations can provide application teams with the data they need faster and deliver new features and capabilities to customers at scale. Link on-prem and cloud for easy data movement across environments and process data in flight.
Power modern, real-time applications with next generation data streaming using Confluent fully integrated with Google AlloyDB.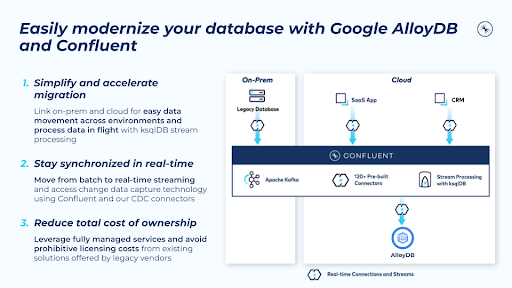 Digital transformation has become a priority, as business leaders realize the value of data-driven decisions. Data is at the heart of their digital transformation, and enterprises are leveraging the open cloud approach to redesign their processes and implement new business models.
Google Cloud, Confluent, and MongoDB are partnering to accelerate the access and benefits of leveraging data on an open cloud. Learn how openness plays a critical role in data innovation and driving transformational outcomes for customers.
Join us for a joint discussion panel with Confluent's Will LaForest from Confluent, and MongoDB's Vice President of Product, Andrew Davidson as they discuss Accelerating data driven transformation with Google Cloud's open cloud
Session 4: Practical Stream at Scale with Spark on GCP and Confluent (Elena Cuevas, Manager, Cloud Partner Solutions Engineering, Confluent)
A gentle introduction to Confluent Cloud and Dataproc Serverless Spark for streaming at scale with a basic demonstration of stream processing and a complementary hands-on lab for you to try out the integration yourself.
Finally, we have several exciting announcements at Google Cloud Next, and we look forward to sharing them with you during the week at Next! Sign up for Next.
We are giving away a Confluent swag coffee on us package for those who sign up for a free trial on Google Cloud Marketplace during Next – keep a look out for the link during the event!