A year after Confluent launched an initial public offering, the company continues to expand at an extraordinary rate. The Europe, Middle East, and Africa Sales Operations team is at the forefront of exciting opportunities for growth at Confluent, and its members are creating processes that are helping drive the company's progress. Below, Ian Phillpot, Leanne Moylan, and Harry Marsh discuss the work they do and what it takes to thrive on their team.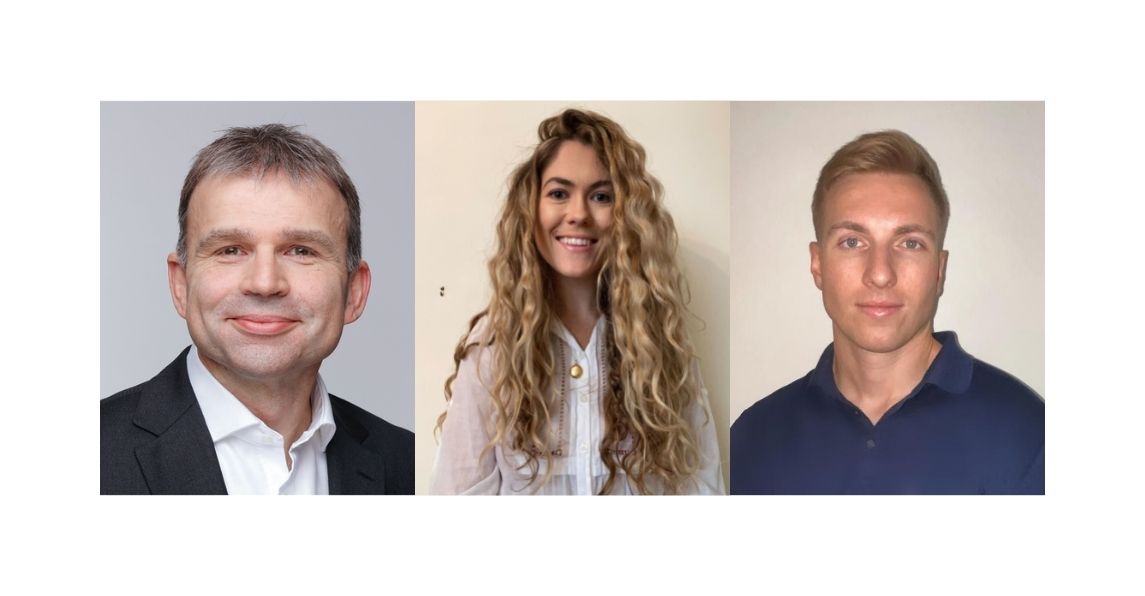 From left to right: Ian Phillpot, Leanne Moylan, and Harry Marsh
What brought you to Confluent?
Leanne: I worked in sales operations for about four years before coming to Confluent, but it was in completely different industries. One of those was in travel, which obviously wasn't the best industry to be in when COVID-19 happened. But even before COVID-19, I was already interested in Confluent.
I was particularly interested in moving into technology, but I was struggling to make that transition. I had no technology background at all, and I wasn't sure if a company would give me that opportunity. I felt quite out of my depth the first couple of weeks. There was a lot of new terminology I'd never come across before. I was thrown into the deep end a little bit, but it's the way I think you have to learn. The whole onboarding process was fantastic. My first few weeks with the company were brilliant, and I've kind of never looked back since.
Harry: I originally joined the SDR team under Willie Osborn—the leadership was a big part of why I came to Confluent. I was also really excited by the technology, and you can see how transformative the use cases really are for businesses.
Additionally, the three traits Confluent looks for—smart, humble, and empathetic—really appealed to me. These words aren't just used as buzzwords or a marketing ploy, the company genuinely uses them as guides when hiring candidates. To know I'd be working around people like that was definitely a big attraction.
Ian: A number of years ago, I deliberately chose to go into SaaS, and through that, I found that I loved being at early-stage companies. I loved the culture. You tend to get people who want to get things done. They usually have lower egos and much better motivations—and they want to build things. I worked with people I enjoyed spending the day with. Ultimately, I came to Confluent because I knew about four people here, and I thought very highly of them.
What do you do on the team?
Ian: I look after our go-to-market operations in EMEA, which means running day-to-day cadences like forecasting, quarterly business reviews (QBRs), and making sure everyone is in the right place at the right time. The broader strokes of what we work on lie with the planning cycle, which is thinking a few quarters out from where sales team members are to ensure everything is ready for when they meet their goals.
Leanne: I'm one of the sales operations business partners, and I work closely with the leaders in the central and southern European regions. My day to day looks different based on the week we're having or the time of year. Sometimes I assist with their forecasting, and other times, I help deal with account disputes between the different regions or different account executives. I'm also the person to go to if anyone requires key performance indicator (KPI) reporting, or analysis of all their opportunities, or needs to create QBR decks and different reports. I can hopefully direct sales reps to the right team or the right person. At the end of the day, we want to assist with their problems so the sales leaders and the Sales team are focused on selling.
Harry: In my role as a strategy analyst, I work more at the EMEA level supporting Ian, as well as with sales leadership, looking at things from a strategic, long-term perspective. A lot of what I'm working on is data-focused, both planning for next year but also working on analytics and dashboards to provide insights for sales leadership into the current state of the business.
You each come from such different backgrounds and perspectives. How does Confluent support your learning and growth?
Harry: I think Confluent has quite a flat organizational structure. You have a lot of access to people across different parts of the business, which is great. If you're in an entry-level role, but you want to put in some time with someone who's much more senior than you, there's a very good chance they will have time to speak with you, which is incredibly valuable. Often, people will actively reach out to you and offer their time. So that's really good, too, in terms of learning and growing your career.
Leanne: Before I joined Confluent, I received all the playbooks, so I read about the products and understood more about the company, the technology, and what we are trying to achieve for our customers. In terms of resources and training Confluent provides, we have a tool called SalesHood, which I did a lot of my training on when I joined the company. It covers a lot of different topics, many of which aren't actually ops related, but it really helped me learn the basics of what we are actually doing here. We also frequently have fieldcasts, where a subject matter expert will do a one-hour talk about a certain topic. It's an opportunity to learn a little bit more about the company, the business, and our goals.
But I definitely learn more from doing. If I'm doing a task or if I'm in a meeting where conversation is taking place, it sticks with me more than just reading from a document. There are definitely times when I make mistakes. But I think you don't learn until you make those mistakes and reflect, "Oh, I could have done that better," or, "I could have communicated that better." I think making mistakes is really important to learning.
Ian: What I learn and continue to do here is really deal with different leaders and different styles. One of the things that really attracts me to this role is wanting to organize and get things structured. I get to mix with very talented people quite near the top of the organization, and I'm able to see best practices with different styles on a day-by-day basis.
As a company, we attempt to solve problems that haven't been solved. At the moment, there's a big move in the industry to go to a technology consumption model. So I'm learning tons from companies like us as we share information because we're all trying to work out how consumption works really well. It's good fun trying to master something that no one's mastered yet.
What do you find most challenging about your roles and how do you work through it?
Ian: Quite often our challenges aren't technical. Usually, it's the humans inside the problem who present the biggest challenge. They are often working hard and at a fast pace. Our job is to work out a balance so that people do their jobs correctly while not overburdening them. Different groups of people react in different ways, so molding the solution is also very challenging. That's why we have to go to the QBRs. That's why we interact with a lot of people, because it often comes down to the individual or a group of individuals to find the best solution.
Leanne: Now that we're one year post-IPO, we are scaling at such a fast rate. So we're going through a stage where we are thinking about changing processes that no longer fit their purpose or creating new ones because of the rapid growth we've experienced. This is across the entire ops group, which includes sales systems, sales compensation, and sales strategy. It's a huge challenge we have in front of us.
Harry: One of the challenges is not having clearly defined processes for some things. Sometimes it feels like you're creating things from scratch, but that also creates an opportunity to learn, be creative, and put your mark on it. For example, the sales leadership in EMEA wanted to be able to create some bespoke Tableau dashboards in order to improve visibility on the business, and that wasn't on the immediate roadmap—so I had a go at creating them myself.
Ian: Let me help Harry out here, because I can tell he doesn't want to brag about himself. One of the big things we do is try and work out with the leadership what everyone should be looking at. Everyone has an opinion, but you can only make one dashboard that needs to balance it all. Harry took a very sticky tape-and-plastic thing I had produced, which got us by, and he built it into Tableau so that it looked exactly like a really robust thing that's typically built in a year. The difference is, Harry enabled us to have the technology to solve a problem in two days, and then they can take as long as they want to actually do the real thing. Oh, and he did this within his first three months here, which is awesome.
What are you most excited about when you think about the future at Confluent?
Leanne: I'd love to become a subject matter expert in sales operations one day. Obviously, even in 20 to 30 years, I won't know everything, and I'll never know everything in ops. But I would like to get more of an understanding of different elements of sales operations. Whether that be sales systems, strategy, opp management, or deal desk, I would like more knowledge in ops because eventually I would like to head a team or head an ops department. So getting exposure to different elements of ops is really important for me long term.
Harry: I'm excited about the fact that I already feel like I found a role that really fits with what I want from a career and to see where it can take me. Every day I'm learning new skills and the ins and outs of the business that will compound in their value over time. I'm excited to see where the company goes. As everyone said, we're growing at a very fast rate and things are changing every day, so there's a big opportunity there. It's nice to be so close to a business that you can see your day-to-day activity having an impact.
Ian: I've found my niche. I love this size of company. I love this style of company. It's not accidental I'm here, and it's going to be a good few years before it's outside that size of company. What has always excited me in these roles is I love fixing things. I love firefighting, and I love being sent in where there's a problem. What excites me is I know the company is going to keep going at this speed, and that naturally spawns areas where you can go and fix things. I love that constant opportunity to cover something, or try something new, or fix something you haven't fixed before. I find it very invigorating. I've always loved it. It's really good fun.