Wednesday, August 21, 2019
9:00am - 11:00am EDT
KSQL is the streaming SQL engine for Apache Kafka®, making it easier than ever before to read, write, and process streaming data in real-time.
In this session, Viktor Gamov will discuss KSQL architecture and how to design and deploy interactive, continuous queries for streaming ETL and real-time analytics.
Location:
Syniverse Technologies HQ
Room 338
*If you'll be joining remotely, those details will be provided via email.
About Our Speaker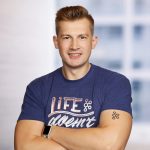 Viktor Gamov is a developer advocate at Confluent, the company behind the Apache Kafka streaming platform. Viktor has comprehensive knowledge and expertise in enterprise application architecture leveraging open source technologies, and he enjoys helping different organizations build low-latency, scalable and highly available distributed systems. He is a professional conference speaker on distributed systems, Java, and JavaScript topics, and is a regular at the most prestigious events including JavaOne, Devoxx, OSCON, Qcon and others (http://lanyrd.com/gamussa). He also blogs, is co-organizer of Princeton JUG and a co-author of O'Reilly's "Enterprise Web Development."