As businesses reassess their strategies mid pandemic, some are struggling to adjust to the new normal. The digital divide is growing wider. Leading companies have recognized the massive opportunity in digital transformation, powered by event streaming. While the companies dependent upon legacy technology and complicated infrastructure are pivoting sharply to catch up, others are widening the gap in their ability to manage new economic realities and respond nimbly to rapidly shifting customer needs.
New research from Enterprise Management Associates® (EMA™) reveals the pressure COVID-19 has put on business models across various industries. As the new EMA white paper on Driving Cost Savings with Event Streaming puts it, when the lockdowns started, "every digital business model created before the pandemic was put to the test. Within days, digital investments were either proven out or found wanting."
One of the key findings by EMA research confirms what we're seeing at Confluent: The pandemic has shifted business priorities toward cost-saving initiatives, and event streaming has a role to play in the success of those initiatives.

Technology areas that contribute most to cost reduction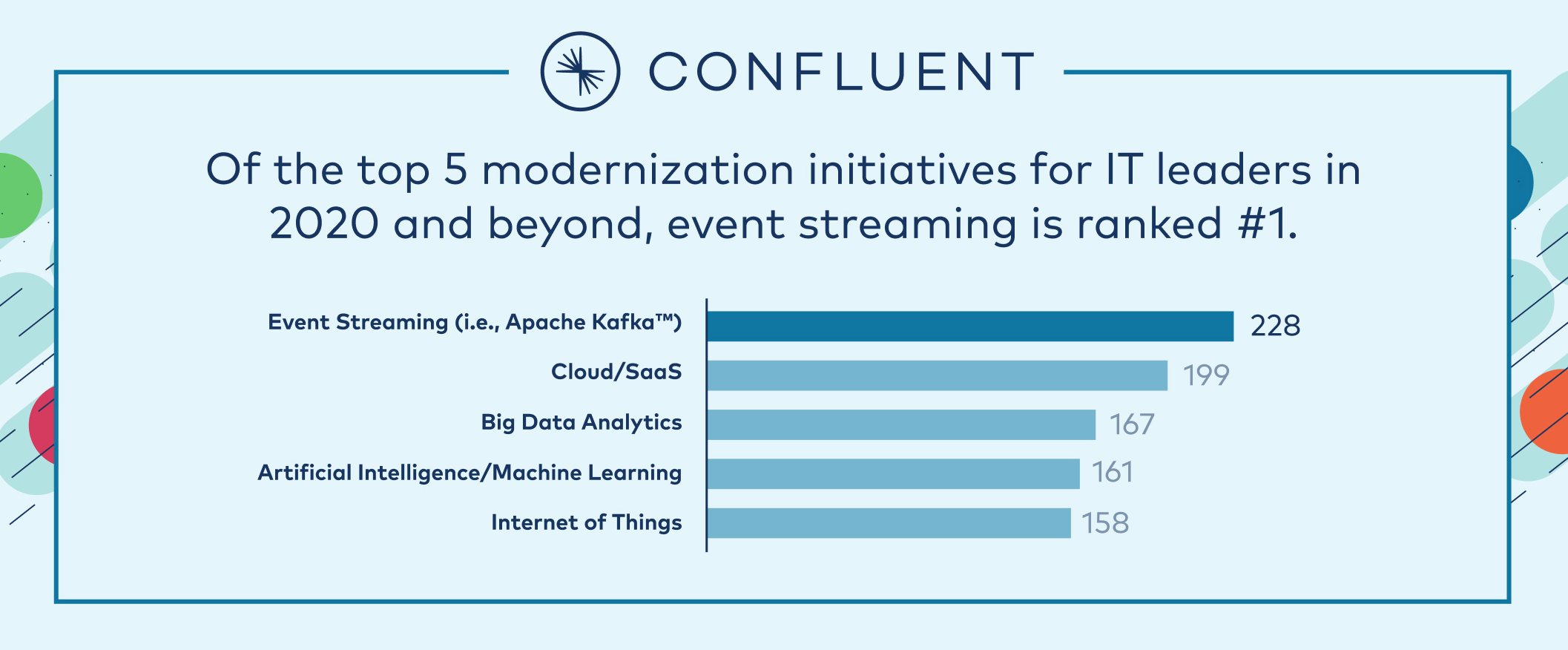 Of those organizations using event streaming, Confluent customers benefit from even greater cost savings. In fact, Confluent Cloud frequently offers a 60% lower total cost of ownership (TCO) compared to building out and managing Kafka infrastructure yourself. At scale, this can lead to millions of dollars saved. Confluent Cloud makes it possible to get started with event streaming quickly, expand elastically, and pay only for what you use with a secure, fully managed cloud service.
There's one more aspect of this to consider: Many of the other technologies cited by EMA as contributors to cost savings—including IoT, AI/ML, and big data analytics—are also supported by event-driven architectures, which further compounds and amplifies the value of event streaming with Confluent Cloud.
Not just savings but speed too
A key lesson we've learned from the pandemic is just how suddenly business needs can change. Almost overnight, businesses were forced to shift to a remote workforce. Retailers closed physical locations and moved resources into online sales or curbside pickup. Some industries saw explosive growth; others contracted just as fast. In the face of such rapid change, development timelines shifted from months and years to days and weeks. Companies trapped with static, monolithic systems have much greater difficulty adapting to such dramatic change.
Here again, companies that have embraced event streaming and cloud-centric strategies have an advantage in their ability to rapidly reshape business models or implement new ones. Event streaming makes it possible for a retail giant like Walmart, for example, to respond with agility to spikes in demand for grocery delivery and pickup. Before the pandemic, Walmart already had in place an inventory management system powered by Kafka and real-time event streaming. That same event streaming backbone is now helping Walmart react quickly to rapidly evolving changes in the retail space.
That doesn't mean that your organization had to be using event streaming before the pandemic to thrive during or after it. It also doesn't mean that you have to be operating at the scale of the world's largest retailer to benefit from event streaming. Kafka is cost-effective for use cases big and small, and Confluent makes it easy to get started with event streaming.
For more insights on how a reprioritization of digital investments and the shift to real-time event streaming in the cloud are enabling innovation and cost savings, be sure to check out the full Driving Cost Savings with Event Streaming white paper from EMA.