Today, I am delighted to announce an expanded partnership with Elastic. Together, we're enabling our joint customers to set data in motion, and through that, deliver optimized search, real-time analytics, and data-driven applications that rely upon these capabilities.
Confluent and Elastic are excited to work together to make it easier than ever to integrate Apache Kafka® and Elasticsearch. This gives organizations the ability to seamlessly stream data moving through Kafka into Elasticsearch, opening up log analysis, full-text search, and more.
We've done this by building a fully managed Elasticsearch Service Sink Connector in Confluent Cloud. This connector eliminates the need to manage your own Kafka Connect cluster, reducing the operational burden of connecting Elasticsearch to the Kafka ecosystem. This capability is available across all major cloud providers, including Amazon Web Services (AWS), Microsoft Azure, and Google Cloud.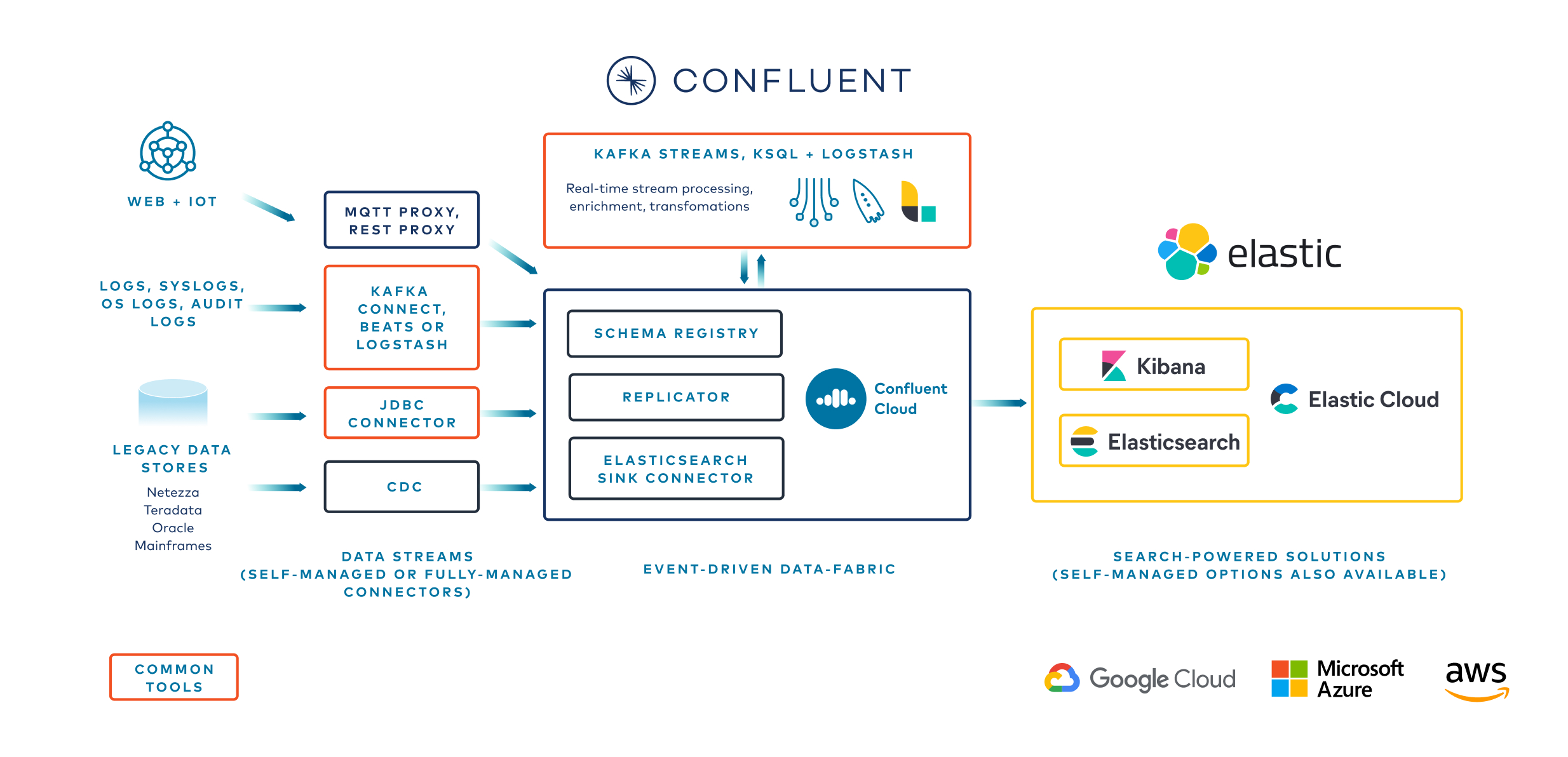 See how easy it is to get started with the connector in the quick demo video below.

A common example where our partnership and easy connectivity enables a new generation of use cases is the augmentation of traditional SIEM systems. We've helped multiple customers protect their environments from constantly evolving threats with the flexibility, scalability, interoperability, and data portability that preemptive threat mitigation requires—and we do it all in real time.
This approach includes the ability to:
Integrate security event and sensor data into a single distributed, scalable, and persistent platform
Blend varied data streams using ksqlDB or Kafka Streams for richer threat detection, investigation, and real-time analysis
Send aggregated data to any connected source, including SIEM indexes, search, and custom apps
Unlock insights in SIEM data by running new machine learning and artificial intelligence models
However, our partnership goes well beyond the ability to implement a SIEM use case. The real-time capabilities that we deliver are helping companies tackle use cases as varied as:
Delivering faster and more customized search and recommendations for retail and media consumers
Improving application and infrastructure performance through real-time monitoring
Driving better visibility into real-time user behavior, trends, and content
We look forward to continuing to work with Elastic to deliver new capabilities that make processing, visualizing, and searching data streams even easier. As organizations around the world adapt to an increasingly real-time, event-driven world, Confluent—along with our broad ecosystem of partners—is ready to help them put their data in motion.
To learn more about our partnership, check out Elastic's announcement.